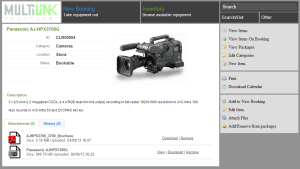 The Central Loan Resources system is a cloud-based service, allowing users to manage assets and associated bookings whether they're in the office or out on a shoot.
As a cloud-based service, there are no hardware costs to worry about and we maintain data back-up's across multiple locations. We have an ever-growing client base including such companies as The Telegraph Media Group and Channel 5.
Proven in real-world use by existing customers, hundreds of thousands of bookings have been made using the CLR system by our users.
Custom Branding for your organisation
Automatically emails and/or sends text messages to users to remind them of upcoming and overdue bookings

Additional data fields can be added for storing information such as serial numbers, PAT test information etc or purchase order numbers related to bookings for instance.
Attach files such as user manuals or risk assessments to assets and bookings
Barcode scanning supported, scanners and high quality branded labels are offered as part of the solution.
Flexible permissions and workflows, complete control over what users can do on the system.
We believe that the best way to see if the CLR system can help you is to try it for yourself. Please contact us so we can give you a login for a demonstration system.